How high gloss adds value to modern plastic molded parts?
Today people increasingly prefer to use products designed by a high gloss mold. In fact, the attractive gloss of plastic products decides their real value. This attractive gloss adds value to different molded products.
As you know that all plastic products are produced by using the plastic injection molding process. Furthermore, the products having high gloss features have actually produced by using glass fiber-added plastic resin in the technique of injection molding.
In this guide, we are going to discuss the basic principle of high gloss molding and its different stages. Further, you will also learn about the different grades in which the quality of gloss is different in each product.
So, get ready to dive!
What is a high gloss mold?
Basically, plastic products are difficult to produce without several defects such as;
gas marks
weld lines
as well as deformation, etc.
But today with the use of high-gloss mold technology, you can easily produce plastic products without all the above defects.
In fact, in high-gloss molding, manufacturers actually use fiber-added plastic resins along with ideally fine surfaces such as glass for the production of plastic products having high-gloss surfaces.
Essentially, this process of manufacturing molded parts with high gloss is done by injecting molten thermoplastic into a plastic mold.
All and all, this process is quite complex but the sole aim is only to manufacture plastic parts with high-gloss surface quality.
What are the most popular uses of high gloss mold?
Since people love to have plastic products with high gloss surfaces so this technique has become the most popular these days. Further, it is mostly used to produce;
computer LCD monitors,
flat-panel TVs
optical Instruments
medical exterior parts
air conditioners and so on.
Today people increasingly prefer to use high-gloss finishes in their traditional interiors. These finishes perfectly help to add interest to their simple and plain surfaces.
Additionally, high gloss mold provides plastic parts that have no flow marks, no melt marks, no flow lines as well as have no shrink marks. They look perfect and give high-class beauty to your home, office, or at any place where you prefer to use them.
Is the technique of high gloss mold longer?
Generally, the whole process of producing high-gloss plastic molded parts uses the process of injection molding. In injection molding, manufacturers use glass fiber-added plastic resin in a high-temperature mold with fine surfaces such as glass.
But producing the high gloss products using a higher mold temperature requires a much longer time in order to cool the produced parts. So, the technique of high gloss mold requires extra time to produce parts with perfect surfaces.
Actually, it becomes longer because the extra cooling time that these parts need leads to the extension of a complete cycle of the injection molding process.
Hence, the technique of high gloss molding is much longer as compared to simple injection molding. But it provides high-end plastic products for your daily needs whether they are related to your domestic or commercial needs.
How to reduce the overall production time of high-gloss mold?
Although the overall process of high gloss molding is longer it can be reduced by using perfect resins. For example, you can make use of high-performance materials such as a wollastonite filler as a supplement.
Essentially, it is an ideal filler that has the ability to ideally reduce the cooling time by at least 40%. Hence, it also helps to reduce the injection mold temperature, so the whole process of producing high gloss molding parts takes lesser time.
What is the process principle of high-gloss mold?
The process principle of high-gloss injection molding is usually very simple.
Step #1:
First of all, the manufacturers heat the mold before as well as during mold clamping.
Step #2:
After completing the procedure of mold clamping, molders perform the injection after reaching the mold temperature in set conditions. While in the whole process, mold continuously maintains the high temperature during the process of injection.
It is essential because rubber can only maintain good fluidity in the mold during the injection when the mold temperature is suitable.
Step #3:
Now when the process of injection of the melted material has completed, the mold has cooled.
So, it greatly helps to reduce the total cooling time of the product.
Hence, all these steps perfectly help to improve the production efficiency of high gloss mold products.
What is a steam seamless high-gloss injection molding technique?
This is a highly advanced technology that is ideally used in the production of high gloss plastic products. Consequently, it has the ability to improve the quality of surface and the strength of plastic products.
Further, it also has the capability to completely remove the painting process or subsequent spraying.  In addition, this process also helps to protect the personal health of operators and the environment as well as can reduce the flow of the process.
Moreover, this high-gloss injection molding technique also helps to save all expensive secondary processing costs. This technique not only helps to save materials and energy but also has the great ability to reduce the whole production costs of high gloss mold products.
What are the different surface finish categories of high gloss mold?
Since there are different kinds of needs of plastic products so they obviously need different surface finishes.
Generally, you have different options in the market for surface finishes. But the injection molders have divided all these surface finishes into the following grades such as:
A - Diamond Buffing
B - Sandpaper
C - Grit Stone
D - Pressure Blasting.
Grade A - Diamond Buffing:
This is an extremely glossy paste because it consists of very fine grains. Further, these kinds of surface finishes are very glossy. Hence, all the plastic products that have diamond buffing paste remain extra flat and glossy.
The products that have these finishes are actually considered the highest standard by the customers.
Grade B – Sandpaper:
The products that lie in grade B have surface finishes of sanding grit. Basically, it is a perfect semi-gloss finish that perfectly helps to hide all visible machining marks.
Grade C - Grit Stone:
The high gloss mold parts that lie in this grade generally have surface finishes using grit sanding stones. These products have a comparatively rougher texture to grade B.
Grade D - Pressure Blasting:
The plastic injection parts that have plastic surfaces with pressure blasting use additional abrasives. these abrasives are usually beading of glass or sand. These surface finishes provide non-directional patterns as well as dull or flat finishes.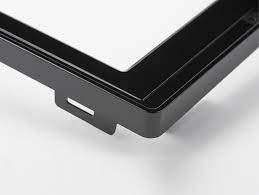 Conclusion:
Although by using the traditional injection molding process, you can get plastic products easily. But these products don't have ideal features of high gloss mold.
Moreover, these products also have worse fluidity and higher plastic hardness. So, they are not considered perfect to use in advanced plastic products.