What is meant by a diy injection mold?
Diy injection mold is a method for making inexpensive moulds to make unique plastic objects. It is accomplished by employing a straightforward hand-operated device that is broadly accessible and easily priced. Making a two-part mold, melting plastic, and shaping the plastic into the required shape are the steps in the procedure. Individuals can use this method to make their injection moulding components. It is a fairly simple method that gives people an inexpensive option to make unique components for various applications.
What is required to do your diy Injection Molding?
Building a system for do-it-yourself injection moulding does cost money. Having the correct equipment and becoming an expert user of it costs money and takes time. However, these expenditures are frequently still less than the price of a single metal mould, so once you're up and running, the time and money you'll save eventually will easily outweigh the initial effort.
Guidelines for Designers Interested in DIY Injection Molding:
When creating your mold, consider what will successfully mould and 3D print.
Depending on the intended design and volume, the precise strategy for DIY injection moulding may change, but these ideas and recommendations will help you succeed more often.
Printing the mould with a lesser layer height will make the print lines less noticeable on the completed product. (50 or 25 microns per layer instead of the default 100). Keep in mind that this lengthens print time.
The part may be removed more readily, and mould deterioration is reduced by adding two to five degrees of draught on surfaces perpendicular to the direction of pull.
To lessen flash, polish split-plane surfaces using fine-grit sandpaper.
If you want to cool your part more quickly and prevent warping, use a water bath.
At least 1 mm should separate engraved and embossed elements from the surface.
The rear of the mould plates should be thickened by an additional.125 mm when designing an aluminium mould frame to accommodate compression forces and ensure a full seal.
Six advantages of injection moulding for your business:
It is widely available, inexpensive, and easy to obtain:
The main benefit of injection moulding is a three-pronged feedback loop that improves for you and your business as time goes on. Concerning workforce expenses, another benefit of the moulding process is how readily it can be automated. Once things get going, relatively little oversight and supervision are needed. With the stroke of a button, our equipment may be fully programmed to create repeatable circumstances.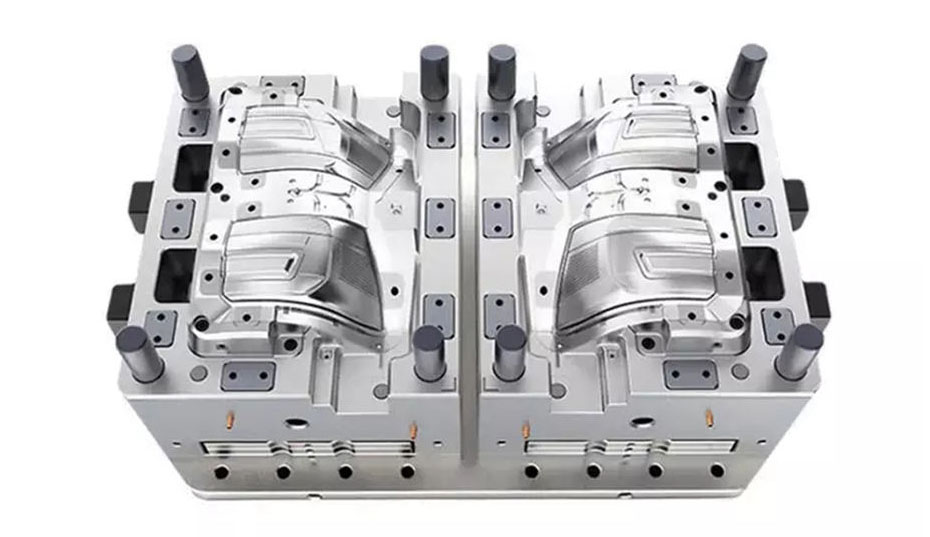 We use injection moulding to produce items in large quantities since it is quick. Parts can typically be made in a matter of seconds, which is why this is possible and how cost-effective the process is. Quicker manufacturing also means that your company's internal operations move more quickly. It implies you will save on related labour costs while still earning money from the result.
Very little waste is produced during injection moulding. In addition to being one of the most effective consumers of raw materials, any extra may be recycled back into the machine for later components, preventing waste. Even while creating the mould itself can be expensive, you'll be able to quickly recover your costs once you start producing, frequently saving 10–20 times as much as you would in big batch operations. When you consider that you won't have to spend extra time joining or trimming your finished items, as well as having fewer rejections to deal with as a result of human mistakes, your labour expenses will hardly be visible.
It looks good straight out of the mould:
Most casting goods need finishing following the moulding process, even if they seem fine right out of the mould. The fact that they are finished immediately out of the mould and ready to use is a huge benefit of injection moulding.
The diy injection mold method allows you to reinforce and strengthen items by adding fillers or additives to the moulded part, a feature lacking in most other techniques.
Customizable injection moulding:
You may mix up your project with diy injection mold thanks to the availability of customization choices and the simplicity of customization throughout the process. There is a vast range of materials and colours that you may use in the process, but if you meet the essential requirements for design, you'll also have a lot of creative freedom. Additionally, you can utilize a variety of plastics during your cycle. Co-injecting plastic enables a machine to process two distinct plastic kinds simultaneously.
Why Go with ACE?
Our internal design and development staff is quite skilled. When working with clients from other countries, we are confident and informed.
We offer OEM/ODM services to all clients, and our expert project management and customer support teams are accessible twenty-four hours a day, seven days a week.
We have implemented a stringent quality control system to guarantee that our products are of the greatest quality and that we offer the finest service at the most reasonable price.
High-quality inspection samples are constantly accessible and may be sent to you right away. Produce designs following client requests. We communicate freely and honestly with consumers and provide things on schedule.
Conclusion:
A part or product is created using diy injection mold, which involves pumping molten materials into a mould. It is a fairly simple method that gives people an inexpensive option to make unique components for various applications. At ACE, we manufacture a variety of injection moulds, from the simplest over moulds and family moulds to the most intricate. When dealing with clients, we aim to offer the highest quality moulds and services at the most competitive pricing with the quickest delivery possible.